This is the second in our five-part series leading up to the launch of Elements I, the newest addition to the Fast ForWord Literacy program. See Part 1 and be sure to sign up for previews of Elements 1 ahead of its August release.
What can educators do to help students recoup this year's learning loss? One promising idea is mastery-based learning.
Mastery-based learning is an alternative pedagogy that allows each student the time and opportunities to master learning objectives. This approach has gained momentum among educators in the past several years.
As a former English teacher, I've seen the impact of mastery-based learning. I used to grade essays traditionally, assigning a letter grade on the final draft. Then, I switched to emphasizing multiple rough drafts rather than the final and replaced a one-time grade with credit for revisions. The result? Students learned more. They tried harder. And virtually all of my students succeeded.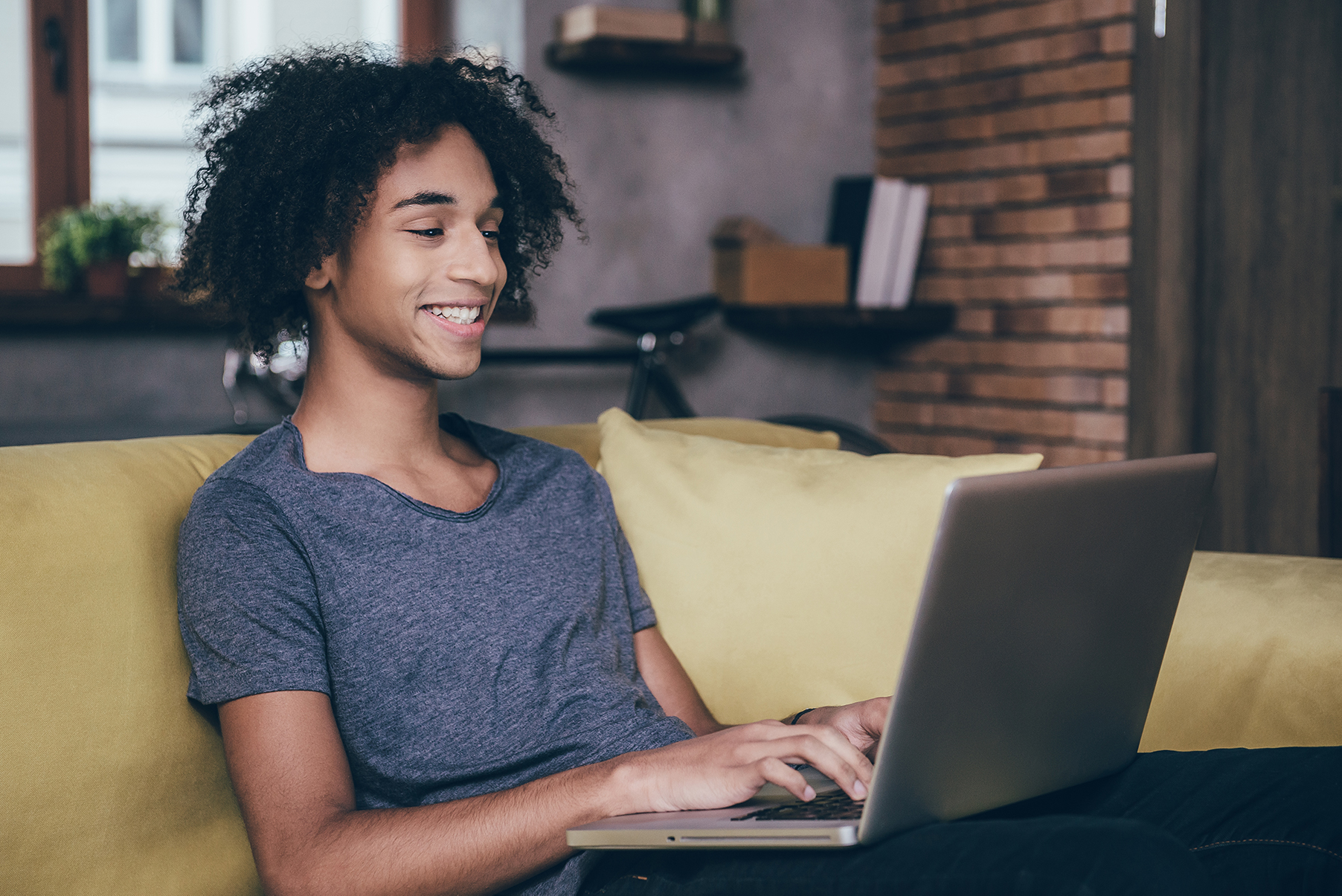 But for many academic subjects or learning objectives, mastery-based learning is neither scalable nor feasible without the help of technology. This is especially the case with supporting secondary students who struggle with reading.
Elements I, the new Fast ForWord component for secondary readers coming August 6, 2020, offers a unique and powerful opportunity to implement mastery-based learning and help struggling secondary students make rapid gains. So, what is mastery-based learning? Why is it more important than ever? Finally, and most excitingly, how does Elements I utilize this approach to meet secondary readers' needs?
What is mastery-based learning?
Mastery-based learning is an educational model that facilitates students' deeper learning by requiring mastery of skills and concepts before advancing to new material. Also known as competence-based learning, mastery-based learning has been called "the transformational education innovation of our time." The strategies and benchmarks that define "mastery" differ from class to class and subject to subject, but it can include small group discussions, worksheets, and online learning.
Compared to traditional pedagogy, mastery-based learning is nothing short of a paradigm shift. It offers an alternative to the long-standing approach of teaching all students the same material over the same timespan and collectively moving on to the next item, even if some students don't fully "get it."
Mastery-based learning does away with the bell-curve expectation that some students will learn more quickly (and feel bored and unchallenged) and that other students will fall behind as they are shuffled onto increasingly difficult material regardless of their lack of proficiency. In contrast, the underlying philosophy of mastery-based learning is that every student can excel and should have a fair chance to achieve their potential. At the end of the day, isn't that what every teacher wants for all of their students?


Of course, master-based learning is easier said than done. Technology can help.
Why is mastery-based learning more important than ever?
With school closures possibly continuing into the fall, perhaps with hybrid remote/in-person classes, technology will continue to play a crucial role. The silver lining to distance learning is that the independent learning environment that education technology provides is a perfect opportunity for mastery-based learning.
Heavy learning loss from the impending COVID slide demands mastery-based learning, in order to support students needing to catch up from a wide range of baselines.
Unfortunately, teachers often don't have the capacity to provide the specialized instruction that vulnerable students most at risk of learning loss need. Even when students work with specialists and aides, these interventions too often fail to deliver results because they don't address the root causes of learning struggle.
Although it may not be realistic to expect educators to transform all instruction time to mastery-based learning, a tool that ensures strong foundational reading skills through this approach could be a game-changer. Elements I is one such tool. It will maximize class time by ensuring that students are better equipped to learn in any subject.
How does Elements I fit the MASTERY model?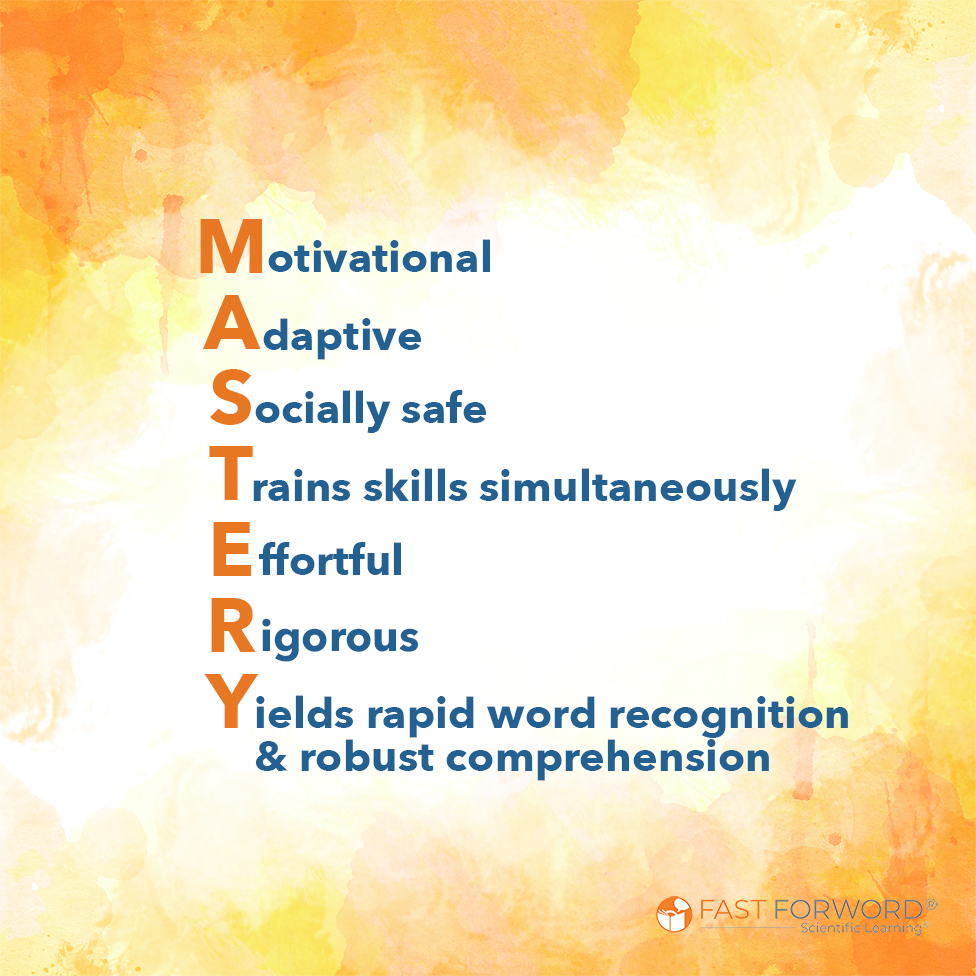 Elements I is the new Fast ForWord component designed specifically for struggling secondary readers. It supports mastery-based learning that adapts to differentiated student needs.
Taking mastery-based learning a step further, Elements I follows the MASTERY model, which is designed to maximize adolescent learners' reading and learning gains. Informed by decades of research in the science of reading and the neuroscience of the adolescent brain, Elements I follows a learning formula that helps any struggling reader make rapid and long-lasting gains, which is especially important when making up learning loss.
Motivating
Elements I motivates and engages adolescents, who are more likely than adults to learn from positive feedback because the adolescent brain hyper-processes risk and reward. Elements I provides:
immediate, corrective feedback.
optimally timed rewards.
increased confidence by limiting opportunities for frustration and failure.
Adaptive
Elements I meets the needs of each students based on their areas of struggle by "growing" with the students. It provides:
personalized learning.
a learning pace appropriate to the student.
Socially Safe
The same regions of the brain that lead adolescents to seek risks and rewards also make them especially sensitive to peer judgment. By providing a socially safe environment to make mistakes and learn, Elements I allows students to:
not feel judged by other classmates.
feel free to ask questions and get help without an audience.
Trains Skills Simultaneously
To make the most efficient use of time, Elements I simultaneously builds:
language & pre-reading skills.
foundational reading skills.
comprehension skills.
cognitive learning skills.
Effortful & Rigorous
Elements I is designed to train, not entertain, the brain. It's engaging, but it's also hard work that pays off. Elements I provides:
effortful, intentional practice.
rigorous, high-frequency exercises.
5x more question-and-answer trials than other reading interventions.
Yields Rapid Word Recognition & Robust Comprehension
Secondary students who are expected to "read to learn" in all of their classes require strong, rapid word recognition and robust comprehension skills. Elements I develops:
processing speed.
decoding skills.
automatic word recognition.
expanded cognitive facility for comprehension.
Elements I is a first-of-its-kind, secondary-specific reading intervention designed with mastery-based learning principles for the adolescent brain. In Part 3 of this series, learn how Elements I fosters social-emotional learning.
---
Amy Takabori has taught English as a foreign language to elementary and middle school students, college prep reading and writing to high school students, and first-year writing to university students.
---
Download the brochure for Fast ForWord Literacy, a 6-12 reading and cognitive program of which Elements I is the newest component.