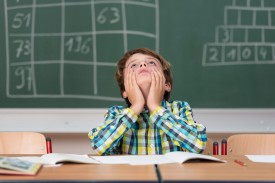 "I just don't get it!" is a phrase some of us may have heard or even used in our lives. Our brains successfully comprehend and utilize incoming information when strong cognitive skills are present. With weak cognitive skills, especially in young children, learning is a challenge. The major cognitive skills necessary for optimal learning are memory, attention, processing, and sequencing. When children are deficient in one or more of these essential cognitive tools, learning acquisition problems will occur. We all use cognitive skills every day to function successfully. Just driving to the supermarket and back requires those four cognitive skills which are so ingrained that we are often not consciously aware of them.
Memory
Let's look at memory, often referred to as working memory. This cognitive skill allows us to remember information, an essential building block of learning. Without good recall, a child will struggle in the classroom. When kindergarteners are given directions to color the apples red, the tulips yellow, and the cats black on a worksheet, those with poor short-term memory may only remember the first color. Other children may have difficulty following a first grade morning routine which may include placing homework in the inbox, clearing desktops, and getting and completing morning worksheets. Although homework is handed in and desks cleared, some students may forget the next step in the routine. It is, therefore, imperative that memory evolves to optimal levels so that children may learn to the best of their ability.
Attention
Another important cognitive skill is attention. Children must be able to attend to (listen and understand) information for learning to occur. Without this cognitive skill at a high functioning level, reading acquisition along with school success will be adversely affected. Normal classroom movements or noises may not bother most children. Those students with poor attention may find themselves watching a seat mate or looking for the noise being made on the other side of the room. Such distractions may interfere with their ability to hear and comprehend information. When students cannot pay attention well and assimilate new information, they become frustrated and lose interest in the lesson. Even small distractions that others ignore will then become the focus. Let's build good attention skills in the early grades to optimize children's school success!
Processing
Next, the cognitive skill of processing allows our brains to understand and assign meaning to incoming information. Most information is received either visually or aurally. Students with poor visual processing skills may find themselves interpreting visual cues inaccurately. As a result, math computation, hand writing, and oral reading may be adversely affected. Children with poor auditory processing skills may be unable to accurately discriminate between sounds. They might appear reluctant to answer a question since their brains are busy trying to figure out what was asked of them. Reading and comprehension as well as math then become very real challenges for students with poor cognitive processing ability.
Sequencing
Lastly our brains arrange information in a particular order with the cognitive skill of sequencing. Students need this skill to alphabetize, count, and organize information. When children's brains meld new information with previously stored Information, they have a solid base for learning. Children with weak sequencing skills may not be able to compose or outline a story. Even doing a simple word search game depends on good cognitive sequencing skills. Some children who are weak in sequencing may become disinterested in the lesson, perceiving it as "boring" or too difficult. On occasion disruptive behavior may occur due to a child's academic frustration.
Memory, attention, processing and sequencing are the major cognitive skills necessary to become a successful learner. When one or more of these cognitive skills is deficient, children will experience a difficult time in school. Without these essential cognitive skills working at an optimal level, intervention is required for children to learn. The Fast ForWord program is a well-documented educational program geared toward improving these essential cognitive skills.