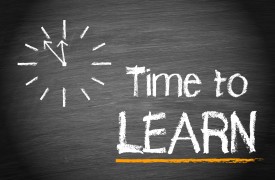 We compiled our list of the top 5 webinars! Are you looking for opportunities to get professional development credit over the summer? Our webinars might be the perfect way for you to get the credit you need while learning from leading education experts on how to better support your hardest to reach students. You can even watch our webinars on your smartphone—making it easy for you to get PD credit hours even when you're away from home this summer!
Our top 5 webinars are...
#5 Underperforming Student Success Strategies
In this fast-moving, idea-packed webinar, you will learn from best-selling author, Dr. Eric Jensen, about the best brain-based learning strategies. Discover the emotional, social and cognitive tools that can eliminate 95% of underperformance issues. You have to know where (and how) to invest your time and energy. Learn the single best tool to solve academic and cognitive issues and you'll start seeing daily academic successes.
#4 Dyslexia Research and Remediation
View this webinar to learn about the latest research on the processing weaknesses and early indicators in dyslexia. Most importantly, find out how to use this information to help your students. See a demonstration of the evidence-based Fast ForWord software.
#3 Effects of Poverty on School Success
Several new studies have shown that students from families below the poverty line are at the greatest risk for academic failure. Research reveals that low family income has a bigger impact on academics than ethnicity or English language proficiency. Join Dr. Martha Burns as she reviews the newest research and provides research on how the Fast ForWord intervention has been found to have a significant impact on academic achievement in children of poverty.
#2 How to Rewire the Brains of Struggling Readers
While home environment, access to books, and social and economic factors all play a part in literacy development, brain differences also play a crucial role. Join us to learn what's different about the brains of those students who struggle to read and what you can do to help wire their brains for fast progress. This is for all educators and administrators who work with students with disabilities and those receiving Tier 3 RtI support for reading.
#1 Autism: New Research and Interventions
New research on the underlying neurology of autism is exploding as is information on the most effective interventions available to drive positive neurological changes in children on the autism spectrum. Join Dr. Martha Burns as she discusses the new research and shares data on neuroscience-based interventions that have been shown to enhance language, attention, and social skills in children on the autism spectrum.
View these and other on-demand webinars on reading and learning here.