Learn more about Matthew
Radically different.
Fast ForWord® software is like no other. Developed in a university lab specifically for children with learning issues, Fast ForWord addresses the core cause of your students' learning difficulties by targeting foundational phonics, language, memory, attention, processing and sequencing skills. It is one of the most powerful and unique reading interventions ever created.  
"I don't believe in quick fixes but the Fast ForWord program was different than anything I'd seen."
   – Peggy Williams, director of instruction for Lamar County School District.
Learn about the cognitive skills underlying your students' struggles.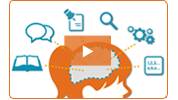 Can you prove it?
There is now a general consensus in the research that the majority of literacy-based learning problems are a result of difficulties in the brain's ability to process rapidly changing auditory information. Fast ForWord was developed out of this research and has 270 studies and 55 patents to back up its effectiveness.
for students diagnosed with:
specific learning disability
specific language impairment
dyslexia
auditory processing disorders
autism
Asperger's
See more results by target population
Fewer in and more out.
After schools start using Fast ForWord with their students, they see a reduction in special education referrals….
"Few students are getting to the point of being tested for special education."
   – Dir. of Instruction, Lamar County School District
View case study
…And a decrease in students who continue to qualify for special ed services.
"By the time students have been in the Fast ForWord program for six months, they no longer qualify for special education because they're now at grade level."
   – S. Brimhall, Show Low, AZ
View case study
You have to see it to believe it.
It sounds different, doesn't it? That's because Fast ForWord (Fast ForWord Language V2 for elementary students in the demo below) uses patented technology to slow and amplify the specific hard-to-process sounds of the English language. Children start with exercises that help them perceive and process speech sounds appropriately, while simultaneously building grammar, comprehension, and vocabulary. Research shows that this bottom-up approach leads to improved language and reading skills, in just a few months.  
[click the character to demo each exercise]
We are unable to detect Flash Player 8 or higher on your system.
(Flash Player 8 or higher is required for this presentation)
Download the most recent version of Flash Player.
Want more?
Download a sampling of the research behind Fast ForWord and see how it's used at schools around the country to reduce special ed referrals and get more students back to general ed, for good.
Request a live demo of the products.