Real kids. Real research. Real results.
Neuroscience research has shown that with the right input, the brain can change and reconfigure itself throughout life, proving that student potential is endless. Fast ForWord is an online reading intervention that uses the principles of neuroplasticity – the ability of the brain to rewire and improve – to treat the underlying cause of language and reading difficulties, once and for all.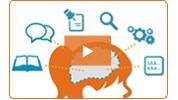 Watch the Fast ForWord Overview Video
Tested, Real-World Results for Educators and Specialists
The Fast ForWord program develops and strengthens memory, attention, processing rate, and sequencing—the cognitive skills essential for reading intervention program success. The strengthening of these skills results in a wide range of improved critical language and reading skills such as phonological awareness, phonemic awareness, fluency, vocabulary, comprehension, decoding, working memory, syntax, grammar, and other skills necessary to learn how to read or to become a better reader.
Support Existing Curriculum with Fast ForWord Programs
Fast ForWord reading intervention products support existing curriculum—they don't replace it. They align to No Child Left Behind state mandates and have been an important factor in AYP success. And, most importantly, the gains students achieve are lasting, the result of enduring positive changes in their processing skills and learning capacity.
LANGUAGE & LITERACY Series


Our LANGUAGE and LITERACY products build foundational reading and language skills to help districts move special needs learners to successful learners in the general classroom.

Learn more:
LANGUAGE Series (Elementary)
LITERACY Series (Middle/High School)

READING Series


Our READING products increase processing efficiency and build critical reading skills in schools so districts get the most from their existing instructional approach.


Learn more:
READING Series (PK-12)